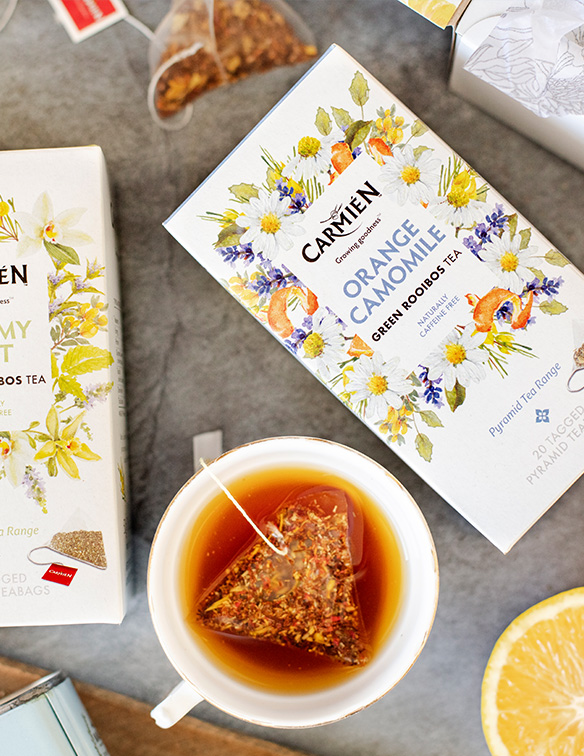 We are proudly affiliated with Carmien Rooibos tea. Made by fermenting the leaves of the flowering rooibos, or 'red bush' shrub, has been a popular tea throughout South Africa for over 300 years. Carmien Rooibos tea originated in 1998 in a quaint Citrusdal farm stall, on Brakfontein Estate in the Western Cape's Cederberg mountains. As a cultivated crop since the early 1900's, rooibos tea is now being exported to over 31 different countries globally, and Kapvie are invested in helping that market thrive.
The Carmien Rooibos tea company provide for and devote themselves to their local community in a sustainable and rewarding way. This ensures that the essence of food traceability within the food chain begins at the farm and has the longevity to provide for future generations to come. Not only do they empower their local community with sustainable career opportunities, but they contribute to the wellbeing of women and children throughout the wider regions. Kapvie is especially drawn to the charitable legacy that Carmien Rooibos tea has created through their partnership with Bergendal Worker Trust and Mouton Worker Trust. Through this, 5000 dependents from 626 workers were granted shares of Carmien Tea products and are supported through community development on local shareholder's farms.
Positioned in the interior of the Greater Cederberg Biodiversity Corridor, on the West Coast of South Africa, and perfectly located within the limited 60 000-hectare area of land that can actually grow Rooibos tea in the world. Once the deregulation of Rooibos in 1993 came into effect, Carmien Rooibos tea established themselves as a thriving bulk tea exporter and private label packer globally. Carmien Rooibos tea aligns with the Kapvie essence of high quality and organic produce. Their range does vary from organically grown to conventional produce – which is nonetheless produced through Fairtrade principles. Kapvie is ecstatic to be associated with a company that has true market determination and customer satisfaction, offering excellent quality products at cost effective pricing.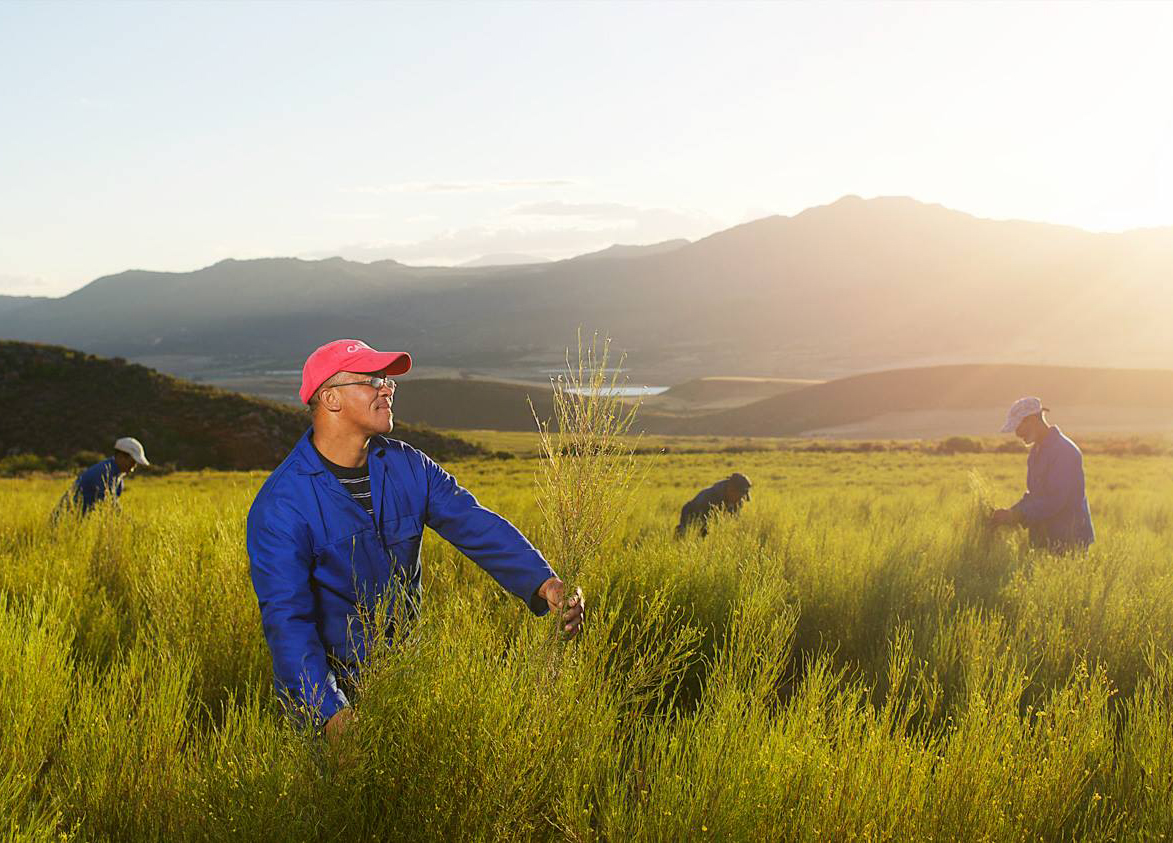 the goodness
of the goods
Not only does rooibos tea taste unique, but it has some amazing nutritional benefits to boot. With its rich antioxidant content, rooibos tea helps prevent radical long-term impairment from ailments such as diabetes, heart disease and others. This is due to the plant being a natural source of polyphenols like aspalathin. The low dosage of tannins found in rooibos compared to other teas makes it preferable for those who favour a weaker tasting brew, while aiding those who live with digestive problems from the usual tannin-rich beverages. Rooibos is caffeine free and is assumed to have a positive effect on peoples blood pressure as it inhibits the angiotensin-converting enzyme that affects blood vessels from contracting which would then cause blood pressure to increase. It does however contain a high flavonol content, rich in antioxidant and anti-inflammatory properties, which helps the cardiovascular system and cholesterol levels.
The type two diabetic benefits come from the protective plant compounds such as polyphenols which work against oxidative damage caused by diabetes. Insulin resistance is also assumed to be minimized with the natural additive of the antioxidant aspalathin, which has been linked to regulating blood sugar levels. Rooibos is also presumed to be beneficial to bone health and reducing cancer risks, though evidence is admittedly scarce in scientific research.